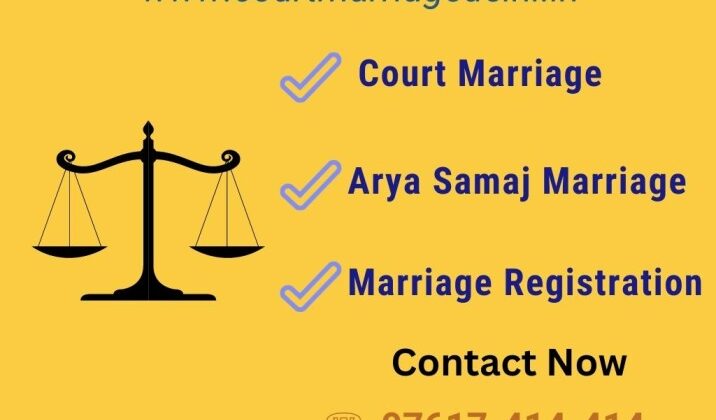 Court Marriage Process in Agra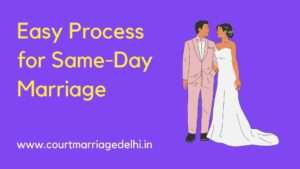 To do a court marriage in Agra, you will need to follow these steps:-
Fill out the application form: You will need to fill out the application form for court marriage. You can get this form from the office.
Submit the required documents:- Along with the application form, you will need to submit a few documents, such as your birth certificate, address proof, and ID proof. You may also need to provide two-four passport-size photographs.
Verification of documents: The authorities will verify the documents you have submitted to ensure their authenticity.
Publication of notice: The authorities will publish a notice of your intended marriage, giving people a chance to raise any objections.
Waiting period: After the notice is published, you will need to wait for 30 days. During this period, anyone can object to your marriage.
Final registration: If no objections are raised, you can get married in court on the scheduled date. The marriage certificate will be issued after the completion of the ceremony.
Witnesses: You will need to arrange for three witnesses to be present at the time of the court marriage.
Note that the specific requirements and procedures may vary based on the jurisdiction and court where you are getting married. It is best to consult a local lawyer or you can contact us at www.courtmarriagedelhi.in to get accurate information on the process.
If you want to do instant court marriage without 30 days' notice or you can not stay for 30 days. Do not worry you have another option to do instant marriage. For that you can go for Arya samaj's marriage after that on the next working day you should register your marriage and get a marriage certificate from your jurisdiction or marriage registrar's office.
You can contact us if you need to know more about the court marriage process and the experienced lawyer will help you to do instant court marriage/arya samaj marriage. We have experienced advocates, they will guide you and do all the requirements for your marriage.